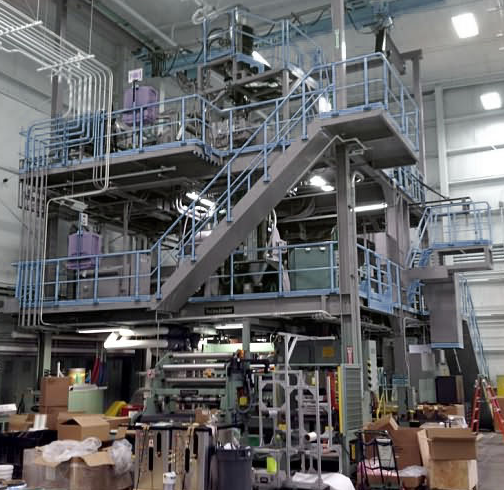 Spunbond Pilot Nonwoven Machine
– 1 meter wide with web former, calendar, and winder. – Reported converted from Model 1 (1989) to Model 2 with larger die and spinneret in the machine direction with quench having higher speed capacity. – Originally with 70mm extruder but was updated with Davis-Standard 3.5″ Extruder (new 2000 installed in 2008), 30:1 L/D, 125 HP AC vector motor and drive. The extrusion and melt path temperature and drive control is all new on a Davis-Standard EPIC control system. ~(5) spinnerets available. – KUSTERS Calendar, 1 meter working width (47″ wide rolls), gauges to max 860 PLI, hot oil on main rolls, with (2) water cooled S-wrap web cooling rolls exiting the calendar point. IR heating units to preheat prior to calendar. Includes (14) rolls – Some steel engraved, some steel un-finished – Some are hard rubber or Ebonite, some of these are engraved, some are un-finished. Includes hot oil heater and chiller. The hot oil system is all original but has been serviced by Kusters and is in great shape. – The Linde Quench system is original but reported is still in great shape. – REIFENHAUSER Automatic Winder – A Tidland rotary shear slitter is in place of the original crush cutters which worked best for heavier materials.
– 2 ton bridge crane on the top level. – The controls are part original and part updated. All of the "line drive" motors, gearboxes, and drives updated with AC vector units. The calendar and winder controls were updated also. – NOTES: – Max line speed is 150 feet per minute. The web former, calendar, and winder are all run in coordination at a matched speed and can also be run individually. – The resin dryers and the extruder screw are not included with the line. – Footprint 588″ in machine direction x 446″ in the cross direction, and 362″ H. – The equipment has very low hours being a part time lab line its entire life. Ran mostly PP.
Get the right nonwoven line for your application
Put your  nonwoven machine into operation
Become a sought-after nonwoven supplier
want to have a consultation?